Aluminum perforated metal screen sheet PVDF coating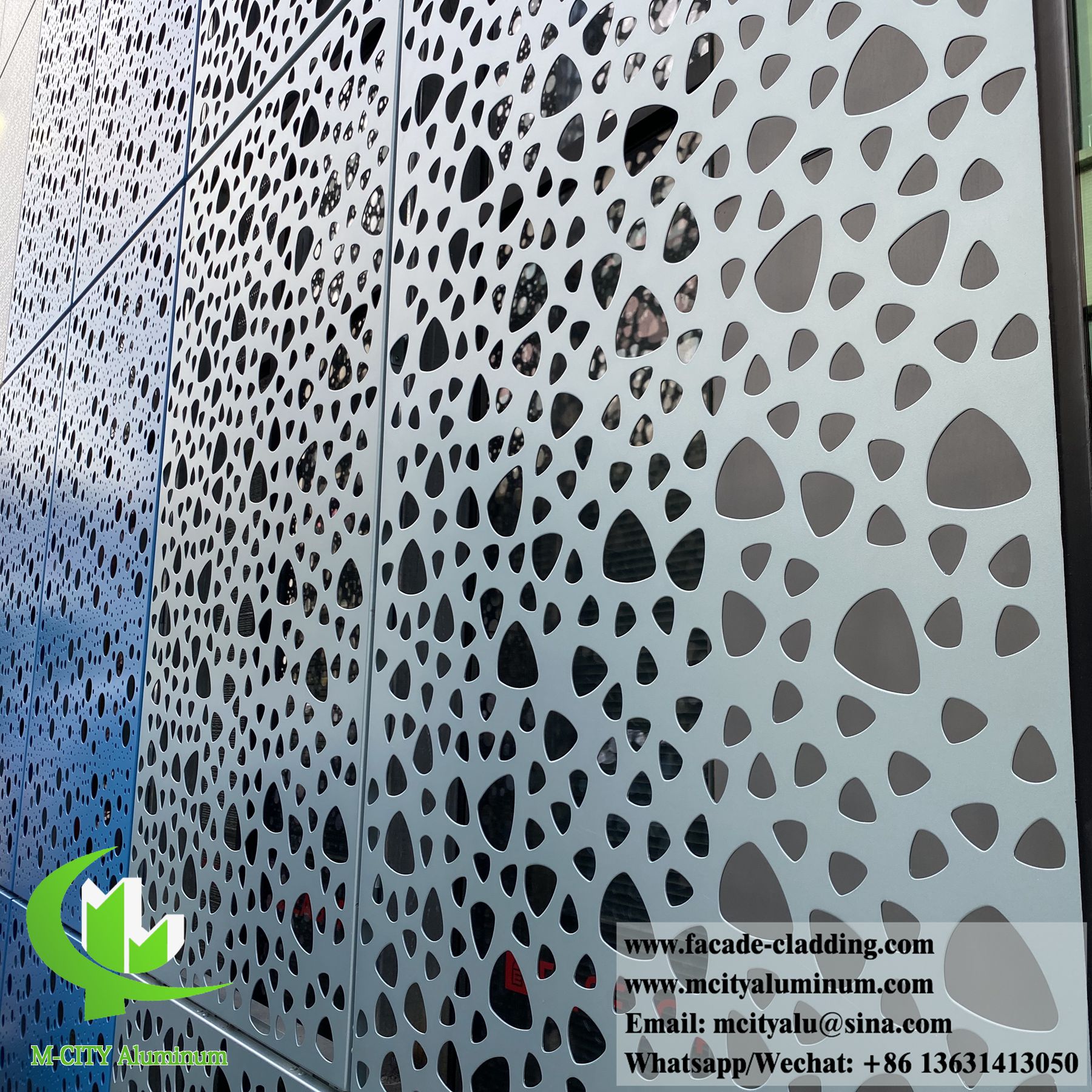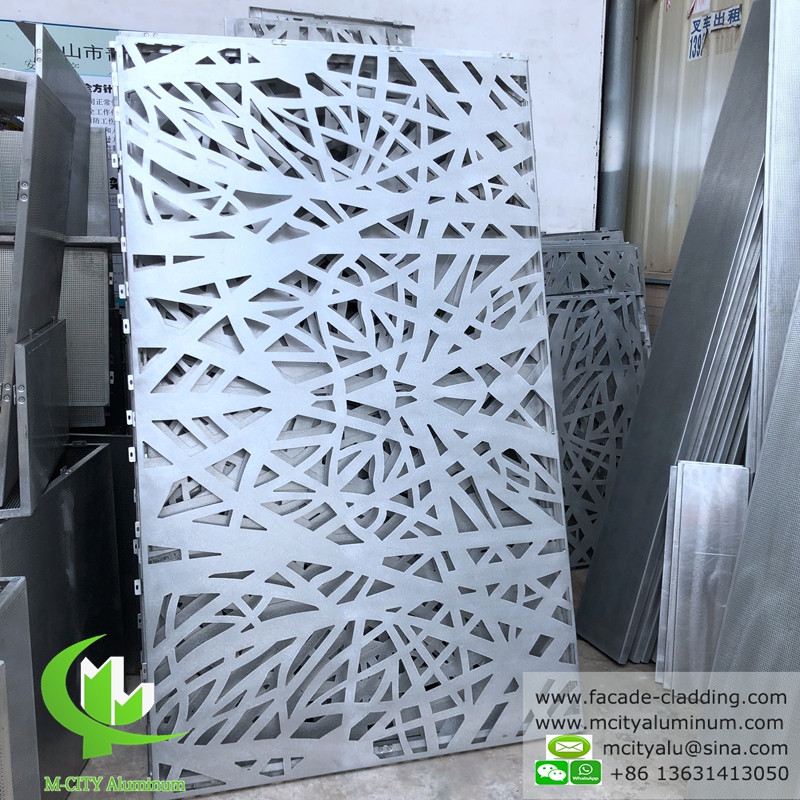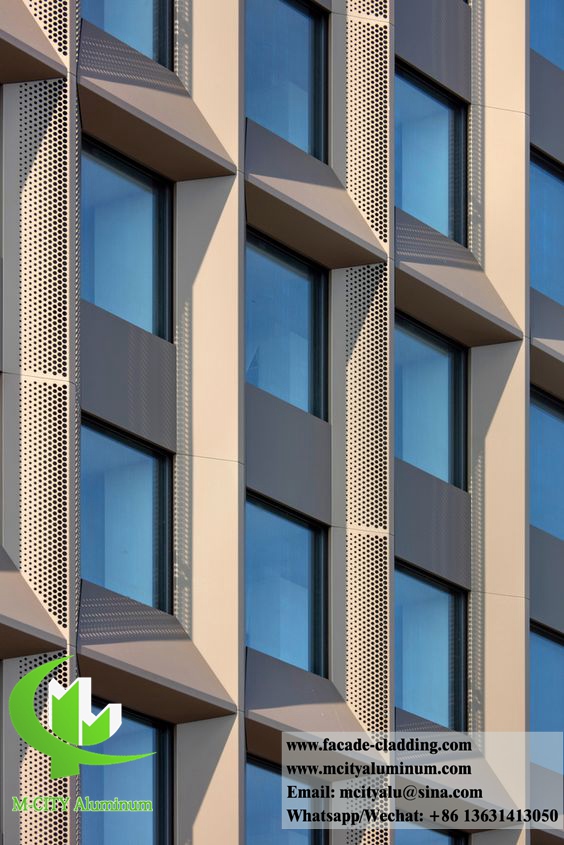 · All Aluminum Panel are prefabricated by CNC machine according to customer's designs and drawings, ready for installation.
· Not only the common curved Aluminum panels but also hyperbolic curved Aluminum panels are available for fabrication, they're produced by CNC machines.
· With customized designs and fabrications, the curved Aluminum panels match the design of building very well.
· With special design various customized shapes and structures, the curved Aluminum panels can help to realize the architect's special ideas and concepts, giving unique styles and designs for the buildings.
· The Aluminum panels are fixed to the frame which is extended from the main structure of building but separate from the main structure to be an independent curtain wall system, they don't give extra weight to the building; this system can also give good thermal insulation and sound insulation to the building.
· As the Aluminum panels are fixed in separate system, it is very easy to maintain the building and replace any damaged panel, and it is also very easy for innovation when the building looks old and needs to be refreshed.
· The Aluminum panels are very light and prefabricated, so you can quickly install them and finish the building easily.
· With PVDF coating, the Aluminum panels are very well weather-resistant, corrosion-resistant and discoloration-resistant. This helps the building to stay durable color and clean look.
· The Aluminum panels are fixed with anchor bolts in strong system; this gives the building with very good impact strength and anti-shock of earthquake.
· Aluminum panel is recyclable material; you can also have some value even though the building is re-built.
M-CITY Metal cladding aluminium specifications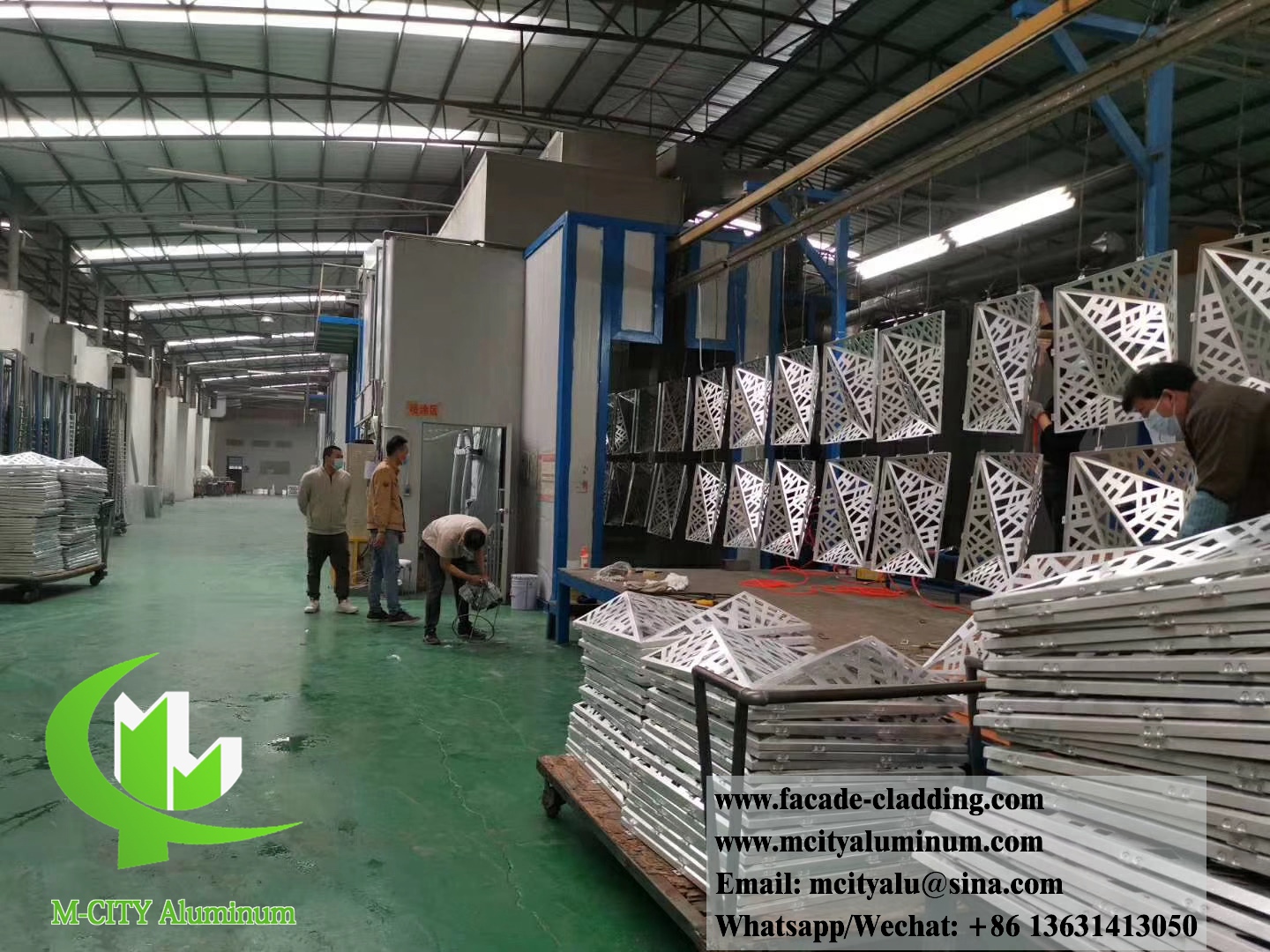 Aluminum panels are made of Aluminum alloy 3003 (aluminum sheet), As a kind of facades, used for wall protection and non-lighting walls, instead of mosaic and general sandblasting facade. With its light texture, good strength characteristics in the use of high-rise buildings have advantages, due to various loads at high-rise buildings all the time, especially by the wind pressure, mosaic Easy to fall off, because of the large wind pressure and deformation. aluminum panel based on its unique advantages and can be used in high building widely.
3D aluminium facade metal cladding design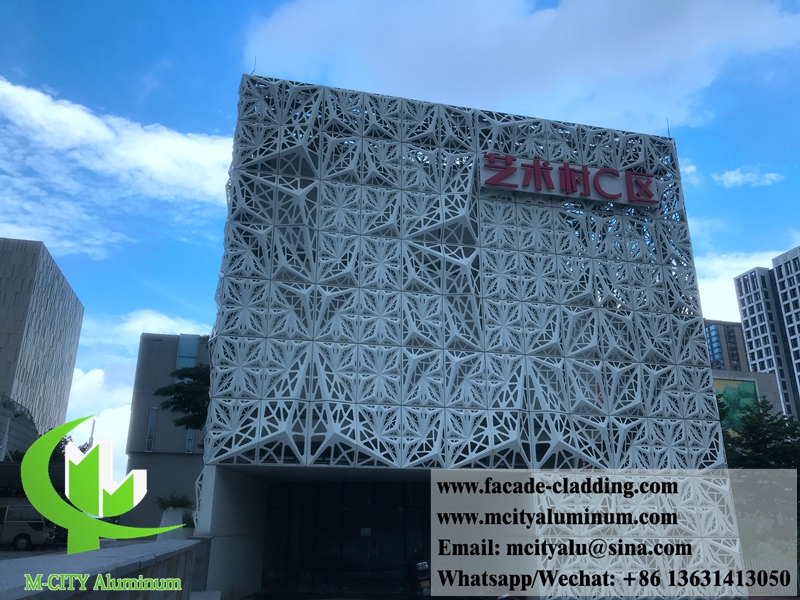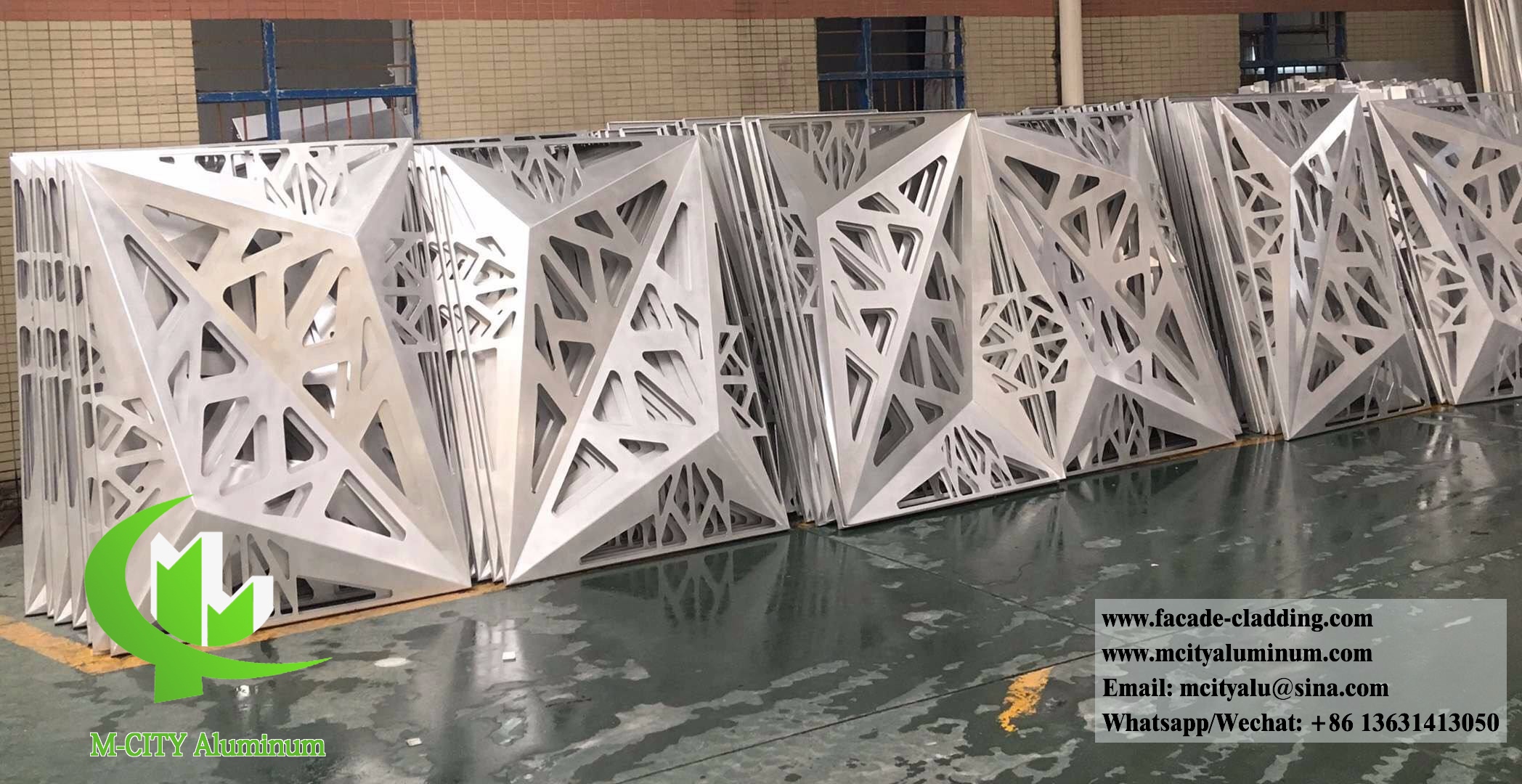 Foshan M-CITY Aluminum Co.,
Ltd
.
is the
professional manufacturer and
Supplier
for architectural
Aluminium facade
in Foshan, Guangdong,China, established in 2008, we specialized in the manufacturing, design and sales of metal cladding, metal facade, aluminium cladding,
Solid
aluminium
panels
and various of laser cut
Aluminium
panel for building decoration.
We have the senior design team, with more than 25 years site experience. We can provide the skilled technology support and samples for your project in time .With advanced CNC fabrication equipments, as well as professional team, we are on the way to be top professional manufacturer. 、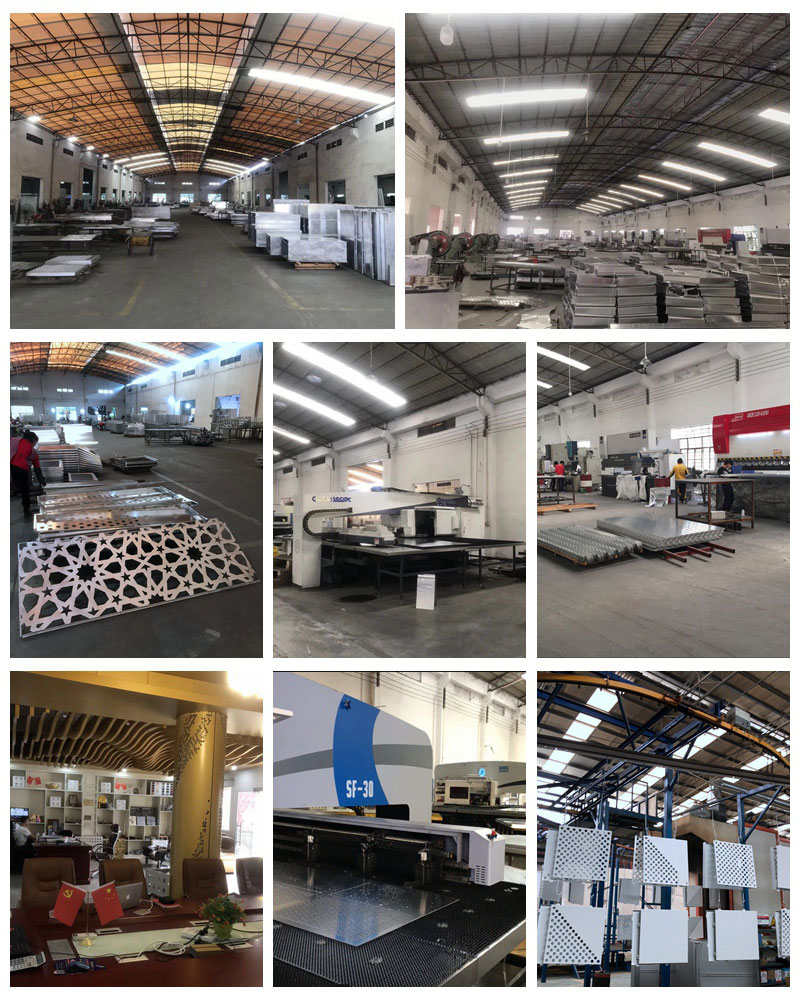 Aluminum screen projects
| | |
| --- | --- |
| Materials: | Aluminum alloy AA3003 and AA1100 series |
| Standard size: | 1000mmx2000mm, 1200x2400mm |
| Other size: | Max. Width: 1500mm Max. Lenght: 5000mm |
| Thickness: | 1mm, 1.5mm, 2mm, 3mm, 4mm, 5mm, 6mm, 8mm, 10mm |
| Surface treatment: | Powder coated, PVDF paint |
| Color: | Any RAL colors, wooden grain color, stone color, etc. |
| Coating: | Akzo Nobel, PPG, Tiger etc. |
| Application: | Cladding, Facade, fence, wall canopy, ceiling, screen, window, balcony, privacy panel, space dividers etc. |
| Patterns | Any patterns can be customized, just supply us the drawing or picture |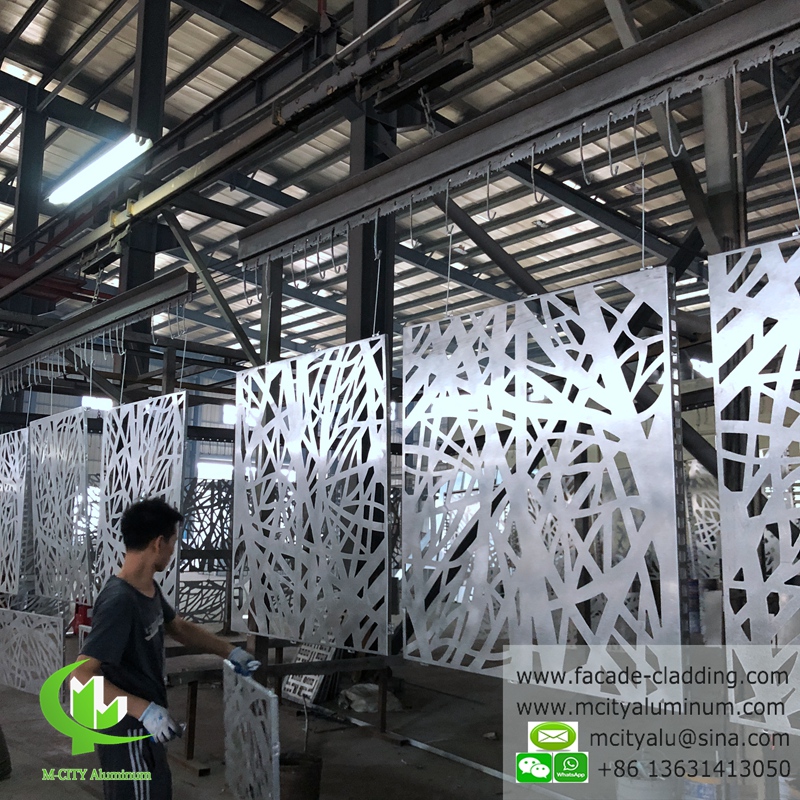 M-City Aluminum factory workshop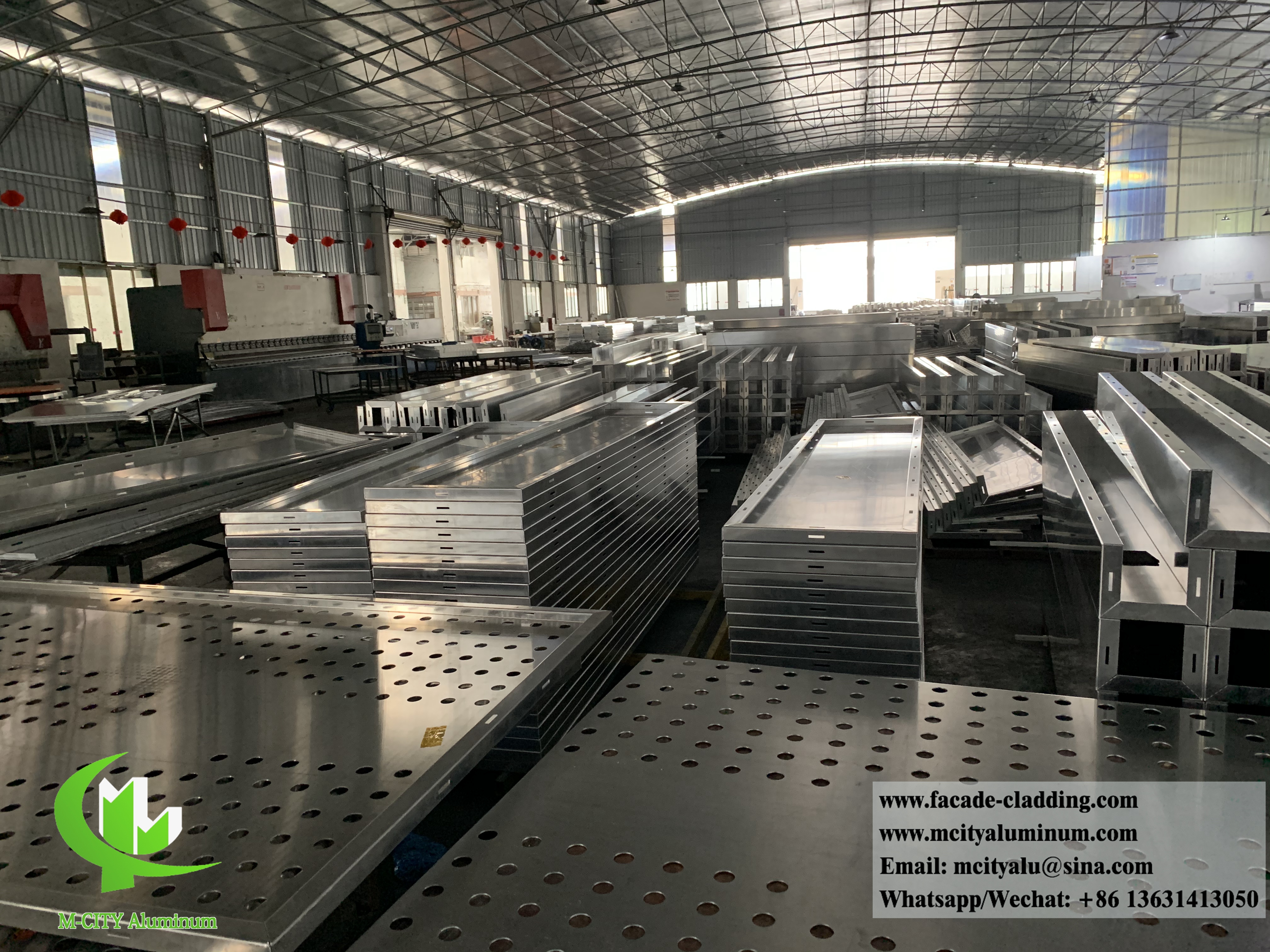 Applications of Metal screen aluminium panels
1, Aluminium panel is the most popular for cladding and decoration of curtain walls, façade systems, ceilings, partitions and roofs of buildings, especially the offices and hotels
2, Aluminium panel is also widely used for cladding and decoration of subways, tunnels, airport and railway buildings
3, With customized designs, Aluminium panel with perforations or engraved patterns is also very popular for decoration of buildings.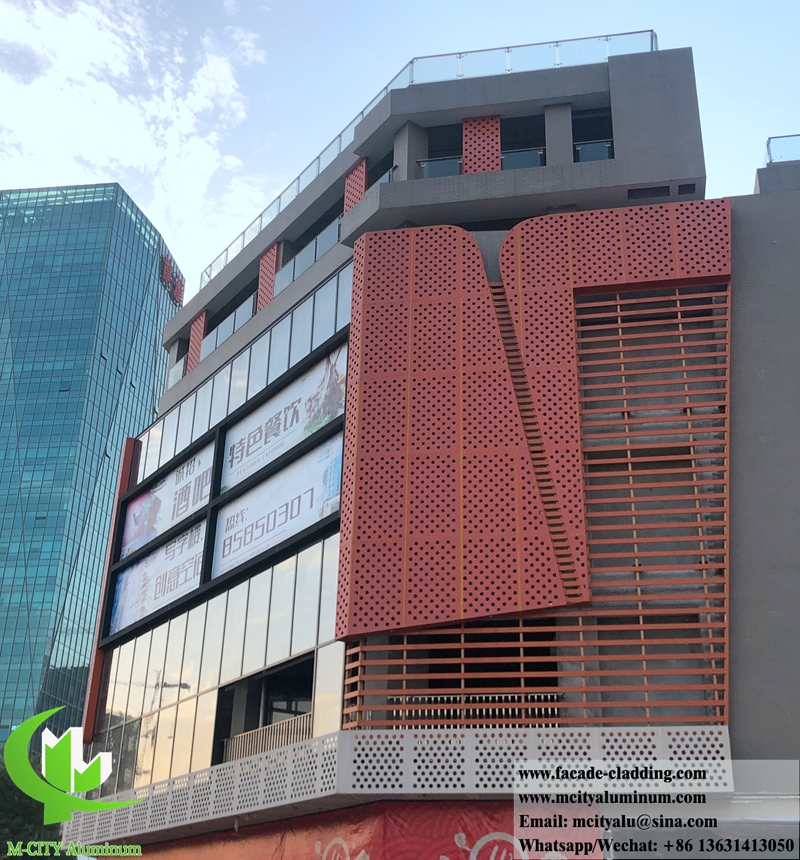 1. what thickness is ok?
Aluminum is one kind of metal, aluminum thickness is 1-12mm, in generally,
for facade, we suggest 3mm or 2.5mm, but depends on the panel size.
2. what's the difference between powder coated, polyester
paint
and pvdf
paint
?
These are three types surface treatment, powder coated is the cheapest one, polyester is in the middle, and the pvdf is the most expensive one. For the quality,the powder coated is under 10 years. Polyester is 10 years, pvdf is 15 years quality guara
n
teed.
Powder coated and polyester is suitable for interior, pvdf is suitable for exterior.
3. what is the coating mean?
Coating is a surface treatment. They are powder coating, polyester, PVDF.
Powder coating is the cheapest way, PVDF is more expensive. PVDF coating can prevent the rain and wind, stay bright after years.
4. Any pattern is ok?
Most is ok,
except some patterns have not supported point.
You can choose our patterns, or provide your own design,
5. what is the price?
Because the
aluminum facade panel
can be customized, so, we didn't have the exact price for you. After customers provide the information of thickness, color, pattern, cover size, coating way, then we can quote the exact price.
Feedback
mcityalu@sina.com